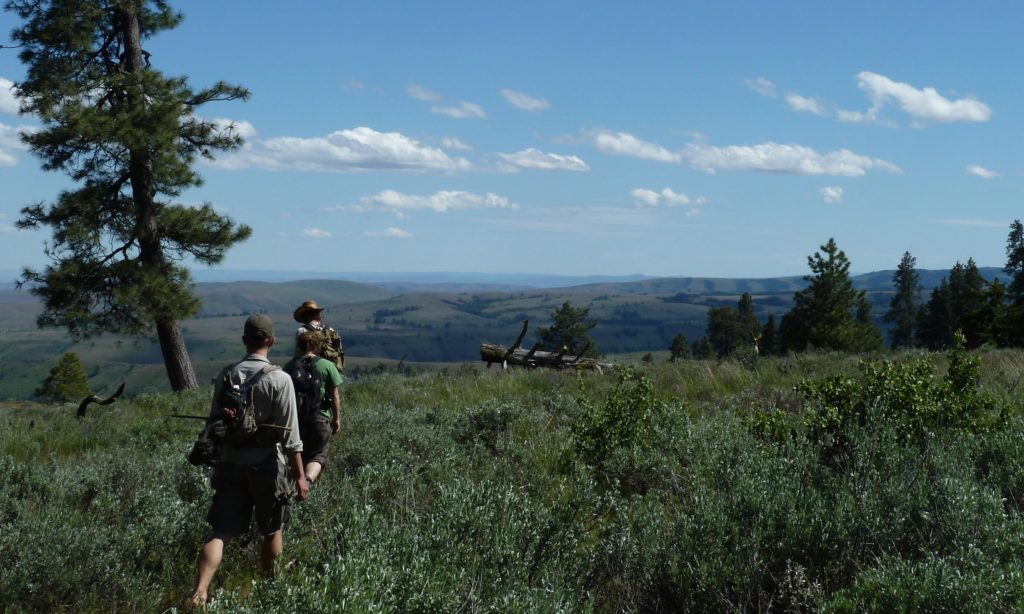 What would it be like to relate to the Earth without the conveniences of our modern world? During the 7-day Wilderness Survival Trek, you will explore this realm with highly experienced instructors who are skilled at creating challenges that are just within your grasp!
The Wilderness Survival Trek serves as a stepping-stone for those wanting to expand their connection with nature and build their wilderness survival and primitive living skills. This wilderness survival skills course is designed to allow you to experience nature directly, and feel the freedom of walking across a landscape and learning to trust the earth to provide for all of your needs.
What's Covered?
Making fire (with modern and primitive methods)
Constructing primitive shelters
Locating food and water by identifying indicator species
Learning navigation techniques
Identifying and enjoying wild edibles
Experience nature in an ancient and meaningful way
The biggest benefit of this class is learning to increase your level of comfort in the wilderness. These lessons will not be from a book or a video; they will be deep inside your bones. Graduates of the program often share that they carry this feeling of connection with nature into their daily lives.
This shift is possible whatever your experience level and comes as a result of transcending your perceived edges. You will experience the simplicity and abundance of nature as you travel through various environments with minimal gear.
Important Information
Please read this carefully before you register. This course is very challenging, both physically and mentally. As a participant, you must be prepared to push yourself beyond the perceived physical, emotional, and mental edges – amidst a wilderness setting. You will have the opportunity to learn how to flow with natural processes as you rely upon nature's bounty for food, water, and shelter.
Due to the intense physical requirements of this expedition and the remote location, we require that all participants undergo a complete physical examination and submit a signed Physicians Medical Examination Form (included with your registration confirmation packet). We need to receive this at least 30 days prior to the start of this expedition. This will require you to make an appointment with your physician. We have implemented this requirement for your health and safety and for the overall experience of the group.
Program Staff will follow up with you between registration and your program date to ensure you have everything you need and will succeed in the program.
Please read additional Program Details here.
More Details to Help You Decide
We carry some basic gear on the survival expedition, most of which consists of the clothing that we will be wearing. Upon registering for this course, you will receive a required gear list. When we meet as a group, there is an opportunity to modify what we carry prior to heading into the field. This is dependent on the weather and other factors.
We spend a large portion of our time hiking over varied terrain, being aware of our surroundings, and staying on the lookout for potential food, water, and shelter resources. We spend some time in camps along the way where additional survival skills will be taught and practiced. However, the emphasis of this course is on moving through our natural landscape, gathering resources along the way, and learning to connect with a wild landscape.
We may cover large distances over uneven ground and will go without food and with limited water for extended periods of time. If you have any concerns or questions about whether this wilderness survival course is appropriate, or if you have any special needs that you would like to discuss prior to registering for this course, please feel free to contact us and we will be more than happy to talk with you. Office phone number: 425-788-1301.
Registration Information
Airport Shuttle
Available for $40 each way. Departs from Airport 1.5 hours before program start time and returns 1.5 hours after the program end time. Participants can reserve the shuttle at the time of registration or by emailing or calling the office later. Reservations must be made at least 7 days before the program start date.
Cancellation policy
Please note that this program requires a 25% non-refundable deposit. If you cancel more than 30 days of the start date of the program, you will receive 75% of your tuition. If you cancel within 30 days of the start date of the program, no refund will be given. See our full registration policy here.
Forms
Upon registration, you will be asked to complete a Physician's Release form. Please complete with a doctor as soon as you are able. Being fully transparent allows us to best support your needs on this demanding expedition.