Wilderness Awareness School currently has many exciting volunteer opportunities for people of all ages and skill levels. With the help of volunteers like you, we can deliver a fun and educational experience to children, and promote a deeper understanding and appreciation of nature, community and self.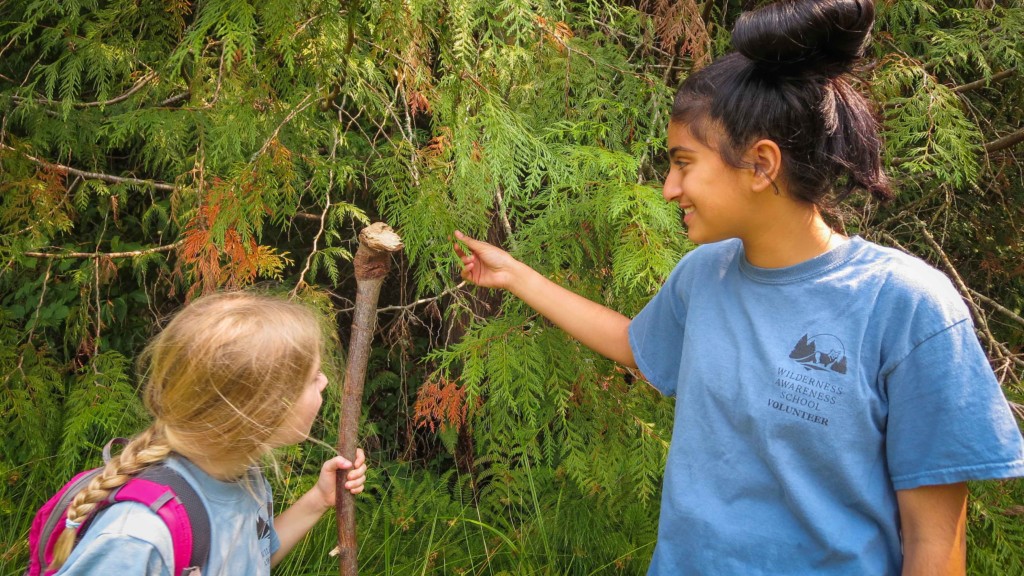 School Year Volunteers
Looking for Summer Camp volunteering? Go here.
Do you enjoy working with children? Are you interested in learning more about working with kids, either as an intern or a volunteer? Can you commit to at least one day a week or one day a month of supporting instructors leading and playing out in nature? Then our Weekly or Monthly programs might be a good fit for you!
School Year Volunteers act as assistant instructors for our school year programs and receive experience in our unique approach to mentoring youth in nature, which focuses on curiosity, play, and asking questions as much or more than a delivery of facts. You can learn more about this approach by exploring Coyote's Guide to Connecting with Nature, available in our bookstore.
How it Works
Volunteers apply online to indicate one or more weeks in the summer for which they would like to volunteer, including the type of camp and location. The Volunteer Coordinator will then schedule volunteers based on these preferences and other factors, working with you to create a schedule that meets our needs and yours! Have more questions? Visit our Volunteer FAQ page.
Minimum Age for Volunteers
The Wilderness Awareness School welcomes volunteers over the age of 13. For youth, the program mimics a Counselor in Training program, giving them an opportunity to develop their leadership skills and envision themselves as future camp staff!
Responsibilities
Volunteers are responsible for getting themselves to and from programs.
Volunteers are responsible for themselves before and after program hours.
Volunteers that are not at overnight camps are responsible for their own food and lodging while volunteering.
Have more questions? Visit our Volunteer FAQ page.
"Volunteering for Wilderness Awareness in previous years has been the perfect opportunity for me to do two of my favorite things: work with children and spend time in nature. I keep coming back because every camp has left me with what I can only describe as a magical growth experience! There's something about the combination of nature, spending time with kids, learning new skills, pushing my boundaries, and connecting with other nature lovers that gives me a new appreciation for life and a better understanding of myself as a person. It's really hard to describe but WAS is so special to me and I want to be a part of spreading the magic again!"

Ayana Harscoet, 17-year-old volunteer
Summer Internship
This is a part paid and part volunteer opportunity. Summer Intern positions are offered for qualified college students who seek an opportunity to experience our Coyote Mentoring pedagogy by working as an integral part of our staff teams as they deliver summer programs. Interns participate in summer staff training overnight, Art of Mentoring weeklong, serve as a volunteer for a variety of programs, and work several weeks as a paid lead instructor at our award winning day camps. Learn more about how to apply here.
Organizational Leadership
Our Board of Trustees, Elders Council members and other advisors are also volunteers! If you would like to learn more about those roles, or be considered for membership, please contact us.
Citizen Wildlife Monitoring Project
Looking to apply your wildlife tracking skills? Join a team of wildlife monitors working with the Cascades Citizen Wildlife Monitoring Project to document the presence and movement of wildlife, from wolverines to wolves to elk.
The volunteer opportunity combines wintertime snow tracking with year-long remote camera work to help monitor wildlife throughout out the Snoqualmie Pass corridor, where the highway is being updated to include new wildlife crossing structures.
In coordination with our statewide Citizen Wildlife Monitoring Project, we also monitor in remote habitats from the North Cascades to the Pasayten Wilderness to the Gifford Pinchot National Forest.
Volunteers are trained and mentored by a partnership of Conservation Northwest, Wilderness Awareness School, and the I-90 Wildlife Bridges Coalition. Learn more about volunteering here.