Description
In these deeply personal and intellectually curious essays, Heather Durham explores wild America weaving the unique perspectives of trained ecologist, inquisitive philosopher, and restless nomad, probing intricacies of the natural world as profoundly as she does herself. She wanders from New England vernal pools to Pacific Northwest salmon runs, Rocky Mountain pine forests to Desert Southwest sage flats in search of adventure, solace, authenticity, and belonging in the more-than-human world. Part scientifically-informed nature writing, part soul-searching memoir –including first-hand accounts of her experience as a student in The Immersion at Wilderness Awareness School– Going Feral is the story of a human animal learning to belong to the earth.
This book was selected as a Finalist in the Next Generation Indie Awards for Nature & Environment.
"These essays range far, challenge comfort, reveal grace, and often end on landing-points
of shocking rightness, in language as lush and right as that world it conveys.
A reader could be stirred up here, could be reminded to wander
a little (or a lot), could be inspired to shut up and hunker down
and let the awkward perfection of the wild reveal itself.
Something like hope could appear. Something like spirit."
– David Oates, author of The Heron Place and Paradise Wild: Re-imagining American Nature
Paperback, 205 pages
About the Author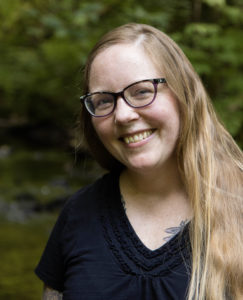 Heather Durham has a Master of Fine Arts in Creative Nonfiction and a Master of Science in Ecology, and has spent much of her adult life working in the fields of environmental education, wildlife conservation, and natural areas restoration, and then writing about her adventures in the wilds. Heather is a graduate of The Immersion at Wilderness Awareness School and currently works at Wilderness Awareness School as a Bookseller, Bird Language Instructor, Bookkeeper, and all-around Office Elf. You can learn more about Heather's writing life at heatherdurhamauthor.com.