Description
In this nature memoir, Heather melds her backgrounds in psychology and ecology to examine her relationships with resonant landscapes, animals, and human animals, and the myriad environmental, physiological, and cultural factors that inform those relationships. In lyric or more traditional personal essays, linear narratives or meandering musings, each exploration builds on the one before, quilting together a patchwork terrain of ruminations, insights, and ever more questions that comprise the examined life of an earthling.
Free-ranging with a pack of feral children on a suburban Connecticut farm; communing with water in the churning seas of the Atlantic, then Pacific, in New England lakes and Pacific Northwest rivers; stalking fire in sunshine, flames, and blood; learning the language of the birds; digging for roots and carving spoons; feeding raccoons, ravens, and ultimately herself; tracking bears, wolves and a gang of wild humans; Durham follows threads of consciousness, solitude vs. escapism, ecophysiology, spirituality, mental health, and the difficulties and rewards of connecting with all those outside our own skins. Wolf Tree invites readers on an intimate journey deep into the quiet heart of an interior landscape on a path that ultimately leads back to the vibrant richness of external communities, including Wilderness Awareness School adult programs.
Praise for Wolf Tree:
"Wow. That is the word I spoke aloud over and over while reading Wolf Tree. Durham's new book is nine kinds of beautiful. Fearless, authentic, raw, glistening, intense, wondering, wandering, untethered, highly original. Wolf Tree is nothing short of stunning."
—Lyanda Lynn Haupt, author of Rooted: Life at the Crossroads of Science, Nature, and Spirit
About the Author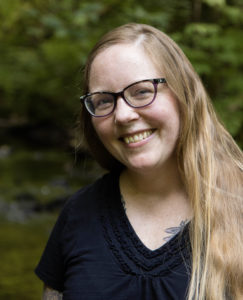 Heather Durham has an MFA in Creative Nonfiction, an MS in Ecology, a BA in Psychology, and has spent much of her adult life working in the fields of environmental education, wildlife conservation, and natural areas restoration, and then writing about her adventures in the wilds. Heather is a graduate of The Immersion at Wilderness Awareness School and currently works at Wilderness Awareness School as a Bookseller, Bird Language Instructor, Bookkeeper, and all-around Office Elf. You can learn more about Heather's writing life at heatherdurhamauthor.com.