$1165
Includes Meals and T-Shirt
"My daughter absolutely LOVED the camp and is very excited to return. She specifically mentioned how the instructors showed confidence and trust in her and her abilities and how that really made her feel capable and highly engaged."

– Mother of Adia K. (13 year old camper)
"My son said that he felt "whole" when he was at camp, spending time outdoors and making deep connections with staff and campers."

– Christine W., Mother of 15 year old camper
"A truly 'wild' experience that was still fun and managed. Loved experiencing survival in a safe and monitored setting. It was just enough of a stretch to feel very satisfying and enriching."

-Father of 16-year-old survival enthusiast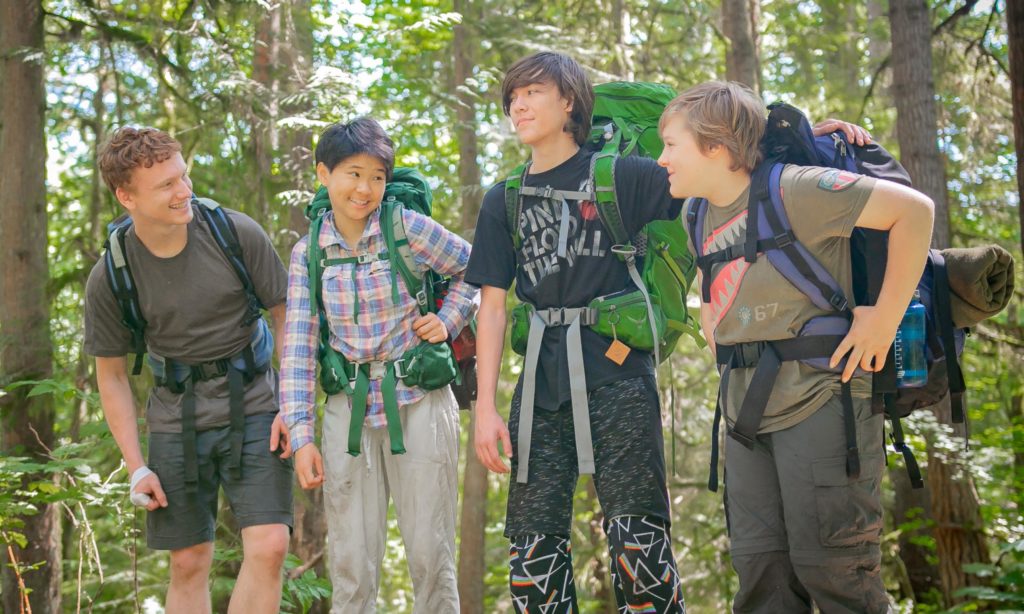 Challenge your survival living skills out in the natural world! Whether you are a graduate of Wilderness Survival Overnight or a socially mature, older teen with previous experience, this week will help you build on your basic knowledge in a small group setting, working as a close community to survive in and connect with nature.
Recognized by Parent Map as winner or top finalist for best overnight camp each of the past seven years, Survival Quest gives teens the opportunity not just to learn to survive, but to thrive together as a community, experiencing the gifts that each person brings to the group and those that the natural world offers to us all.
Please Note: Campers require a certain level of independence and flexibility in order for overnight camps to be a good fit.
During the week long adventure, teens will
Spend time learning how to prepare and pack gear for backpacking
Quest out into the wild with minimal gear for three days and nights
Purify water from wild creeks
Construct and sleep in tarp shelters for three nights
Learn and practice navigation skills
Identify and harvest wild edibles
Learn and practice the safe use of knives as tools
Hunt and catch bull frogs and fish
Pursue fun adventures and challenges off-trail
Develop the "survival mind"
Connect with new friends!
Wondering if this camp is right for your child? Click here to find out.
Our instructional team features
A 1:9 staff-student ratio
On-site director and volunteers who offer additional instructor support
Staff trained as Coyote Mentors, a widely-respected educational philosophy developed at the Wilderness Awareness School
Compassionate educators who encourage each child's respect for self, others and nature
Experienced Wilderness First Aid and CPR certified professionals
Important Notes
Questing in the Wilds
We will be spending multiple nights in the woods away from basecamp without tents. We will take minimal gear including a small tarp, wool blanket, knife, simple food staples, and a backpack. Campers must be mentally prepared for and willing to accept this challenge.
Fishing and Frogging
Campers will have the option to fish and hunt bullfrogs (an invasive species) for food. Campers can bring their own gear but do not need to. Please note that campers 16 and older must have a WA fishing license to legally fish.