The Kamana Independent Study program is an experiential four-level home study course that will guide you down a path to becoming a skilled and knowledgeable naturalist. Kamana provides all the tools you need to connect with nature at your own pace, at your own place.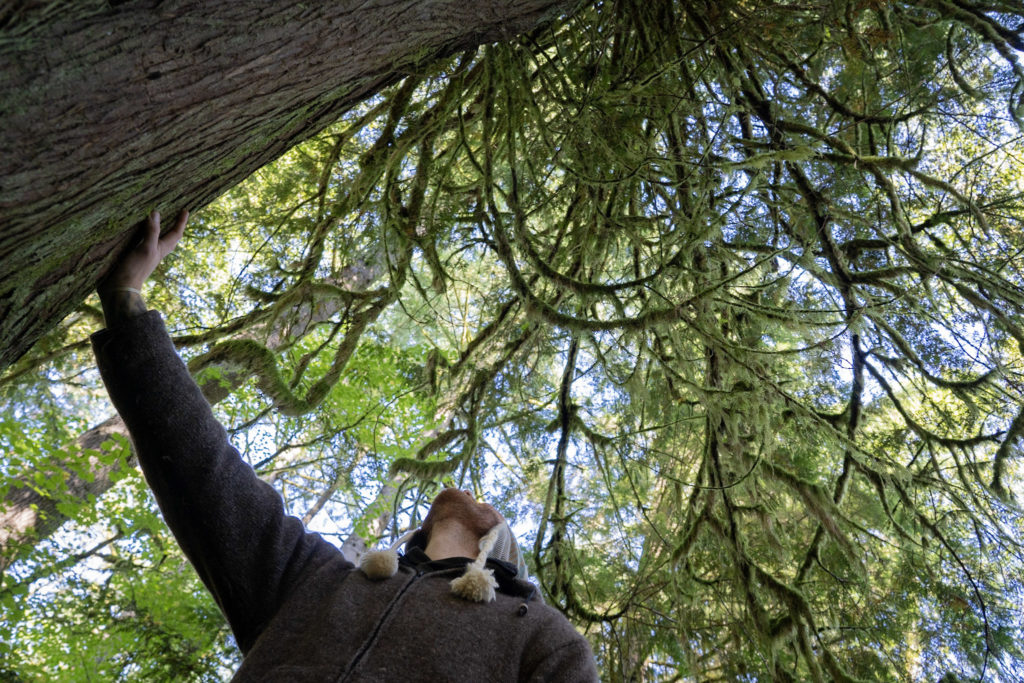 Wilderness Awareness School founder and original Kamana author Jon Young named this self-study course for a word meaning "apprentice" in the language of the Akamba people, natives of Kenya known for their holistic tracking skills and refined cultural mentoring practices. Unlike any other naturalist studies course you'll find, Kamana is designed to initiate you into a way of seeing into natural mystery, a way of recognizing patterns that will entice you to follow them up into greater mastery. We pull you outdoors and get you to quiet down. We show you how to alert your senses – five and more of them. We show you how to use the field guides so that they act like living mentors as you wander through your studies. We focus your eyes and widen them to mystery at the same time.
Trails
The Kamana Path has two trails, and each trail has several tracks.
Nature Awareness
The Nature Awareness Trail focuses on developing your awareness in an expansive way. It is about using your eyes and ears and other senses in ways not often challenged in academic training. Specific field exercises are presented and build on each other throughout the four levels of Kamana. If you work on them every day, the result will be new patterns in your awareness, an increase in your "mind's eye" ability to visualize, a strengthening of your gut feelings, and an ability to be in the right place at the right time. In short, this trail invites you down the rabbit hole of natural mystery.
Resource
The Resource Trail guides you into research to develop background ecological knowledge using field guides and other resources. Though this may sometimes seem like an academic exercise, trust us, it is not. There are elements of poetry, creative imagining, and improvisation in the observational experience inherent in this exercise series. The six tracks embedded into the Resource Trail include Natural Hazards, Mammals, Plants, Ecological Indicator Species, Trees, and Birds.
Benefits
Learn to move safely and with confidence outdoors
Get to know the flora and fauna of your own backyard
Understand the language of the forest and see more wildlife
Discover the medicinal and edible plants of your area
Develop a deep connection to one place in nature
Gain perspective and find peace in grounding core routines
How it works
Kamana One
Kamana One: Exploring Natural Mystery is a series of simple but powerful exercises that take about a month to complete. You move through two weeks of awareness exercises and eight areas of ecological study using a field guide and audio series narrated by Jon Young. No mentorship is available for this basic introduction but you have the option of turning in a completed field pack for a certificate of completion.
Kamana Two and Onward
In Kamana Two, you begin the routines that will remain constant throughout your Kamana journey. From this point forward, each experience builds on the last until you finish Kamana Four. Kamana Two students have the option of working on your own or subscribing to the Kamana Student Services mentorship, which offers one year of personalized email support from a Kamana Instructor and a certificate of completion when finished. Kamana levels Three and Four continue your studies with more in-depth awareness and journaling exercises with feedback from a Student Services mentor for successively longer periods of time—eighteen months for Kamana Three and two years for Kamana Four.
Student Services
When you purchase Student Services you'll be paired with one of our Kamana mentors who will receive your Kamana work—divided up into field packs—via email, then review and respond with feedback, encouragement, advice, and stories of our own to inspire you along your path. As we've discovered in our Coyote Mentoring approach to nature connection, some of the deepest lessons come from a mentor asking you the right questions to take your learning to the next level.
Learn more about Kamana
For more information on the Kamana Program see our FAQ or Kamana student resources below. Ready to dig in? Head over to our bookstore to see purchase options for each level.