Ages 16+
minors must be accompanied by an adult
$275
9am-5pm; No food provided
"Getting to connect with nature and others in this way was so meaningful and healthy. I deeply appreciated the space Laurie held for everyone in the group at all times, her lightheartedness and acceptance for grief made the experience so wonderful. I'm so appreciative and grateful for this land and this experience."

– Ella
"This was a great class that more people need to take. It was full of valuable and life-changing takeaways"

– Jeremy
"Laurie did a terrific job with this class. I have taken many workshops and feel that her skills in leadership were at the top of all I have experienced. She listened well, made sure everyone was heard and acknowledged, monitored time well, and kept our discussions balanced, relaxed, and never rushed. Fun, sensitive, knowledgeable, interesting, and delightful. THANK YOU."

– Anonymous
"This was life-changing"
– Barnell H.
Join us for a weekend of practicing and gathering social and emotional survival skills.
Our ability to connect deeply to ourselves and others is an important survival skill that is not readily taught in our culture. What would it be like to envision a world where we are deeply connected to ourselves and others and where difference is not a problem but something to celebrate and grow with? What possibilities does that open up for us individually and collectively?
In this experiential workshop, we will learn to listen deeply to ourselves and others as we cultivate our intuition, build our resilience practices, and strengthen our ability to stay true to ourselves in the heart of conflict. What would be possible if we leaned into love and compassion in hard moments? Can we view conflict as an opportunity to deepen intimacy and care in our relationships?
In this workshop you will:
Connect to and honor the earth and our interconnectedness
Explore cutting-edge science on the crucial role the heart plays in your health and well-being
Learn self-regulation tools to reduce stress and increase your resilience
Cultivate emotional intelligence
View conflict as an opportunity to further our understanding of each other, find common ground, and inspire creative solutions
We invite you to join us to connect deeply to the earth, yourself, and others, as you practice these crucial skills for our times.
Program Logistics:
Class takes place on our 40-acre property outside of Duvall, WA. It will go from 9-5pm Saturday and Sunday. Participants will need to bring their own food, including a packed lunch, snacks, and water for each day.
Camping is available Saturday night on our campus. To register, select "Optional Camping" under the Additional Options section during the registration process. Camping is at your own risk and available only for Saturday. Potable water and porta-potty access are provided. More details will be provided in the Program Details upon registration.
Meet Your Instructors:
Laurie Archbold (She/Her)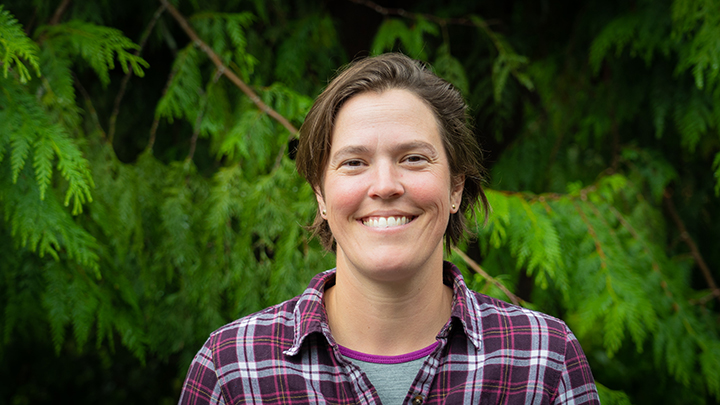 Laurie grew up in the San Francisco Bay Area. After leaving her corporate career, she participated in The Immersion at Wilderness Awareness School and Nature Instructor Training. She has served in a variety of positions at WAS, including Immersion Outreach Coordinator, a member of Wilderness Awareness School's Equity Council, and a core instructor for The Immersion program.

Laurie loves the outdoors and enjoys combining her passions for self-discovery and personal growth with the awe and wonder she finds in the natural world. She's a facilitator with the HeartMath Institute and The Compassionate Listening Project, where she gets the privilege of helping people live heart-centered lives. In her private work as a coach and facilitator, Laurie is passionate about connecting people to themselves, the earth, and their communities in ways that allow for the deep healing she believes is so needed at this time.
Porsha Beed (She/Her)
Porsha Beed is the founder of Liberating Voices. Porsha is a practitioner of love, grief work, and deep heart/soul work. She is a mentor, love prophet, poet, spiritual healer, and facilitator who pulls from a spiritual ancestral lineage and the earth as guides to support and hold her as she works towards a vision of healing work that aids in the dismantling of racism and oppression. With six years of experience as a spiritual wellness coach and group facilitator, she weaves her African Heritage and queer experiences into seeds that she sows in her authentic creative expressions through facilitation, ritual practices, poetry, and song.