We found ourselves making these kelp energy bars so much this time last year, and thought it would be the perfect recipe to share with you.
Kelp energy bars are easy to make, and the perfect snack for the colder months when your body craves more nutrient-dense foods. They also make a great holiday treat.
Eating just a small amount of kelp daily helps to tone many of our body systems. It is beneficial for our circulatory, hormonal, lymphatic, digestive, immune, urinary, and nervous systems. Kelp even helps your joints. The health benefits of kelp are too great to list in this short article.
So, here is a tasty way to start bringing kelp into your diet. You will need:
½ oz. of dried kelp (Nereocystis) fronds
2 cups of almonds, hazelnuts, or sesame seeds
½ cup of maple (or birch) syrup
The first step is to powder the kelp fronds in a blender. Then add your nuts or seeds and grind them together with the kelp. You'll end up with a nicely mixed, coarsely ground blend, which you then pour into a bowl
Next, add the syrup and stir it into the nut mixture
Spread the mixture onto an oiled cookie sheet, pressing it out until it is about ¼" thick
Bake at 325 degrees for 20 minutes. Cut into squares while still slightly warm
Cool completely and then just try and stop eating them…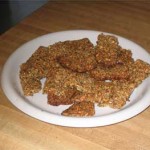 This recipe was brought to our family by our friend Karen Sherwood of Earthwalk Northwest.
You can find dried kelp at herb shops or natural food stores.