$185
Sat: 9-4, Sun: 8-12; No food provided
Close the laptop, shut down the smartphone, grab a notebook and your favorite pen and join us for a women's* nature connection journaling weekend!
*We refer to "women" in as many ways as they want to define themselves. Individuals who identify as trans, gender-neutral, or non-binary are welcome to attend.
We'll integrate contemplative nature explorations and sensory awareness activities with reflective writing prompts to stimulate and reinvigorate body and mind. In the company of other wild women, we'll step out of our busy brains and back into our animal bodies in the richness of the natural world, where we'll create a safe space in which to explore and express whatever reflections may arise from our outer or inner landscapes.
Why Nature Connection?
Nurturing a multi-faceted relationship with the natural world has been shown to stimulate new brain connections and support physical and mental health. Our brains and their bodily sensory connections evolved in the rich, complex, sensual living world. Let's return there together to reconnect, remember, and come back enlivened and inspired, with new tools for integrating a nature connection practice into your everyday life wherever you live. No writing or nature experience necessary, just an open mind and playful spirit.
Program Logistics
Class will take place at our school's 40-acre property outside of Duvall, WA from 9am – 4pm on Saturday and 8am – 12pm on Sunday. No food provided; participants will need to bring a lunch, snacks, and water for each day. Expect to be outside for the majority of class time in both covered and uncovered areas regardless of the weather; please dress appropriately.
Testimonials
"It was so great to have an opportunity to relax into the practice of writing about nature and engaging with the subject in creative and immersive ways!" – Genevieve W., program participant
"This course is more than just about writing. It's about diving into all your senses out in the forest to draw on inspiration for stories and poems. I left it feeling relaxed and rejuvenated." – Laura H., program participant
Please note that you may be required to wear face coverings during class. We will continue to follow State and County guidelines and will send out specific requirements two weeks before your program begins. See our Covid page for the most up-to-date information.
About the Instructor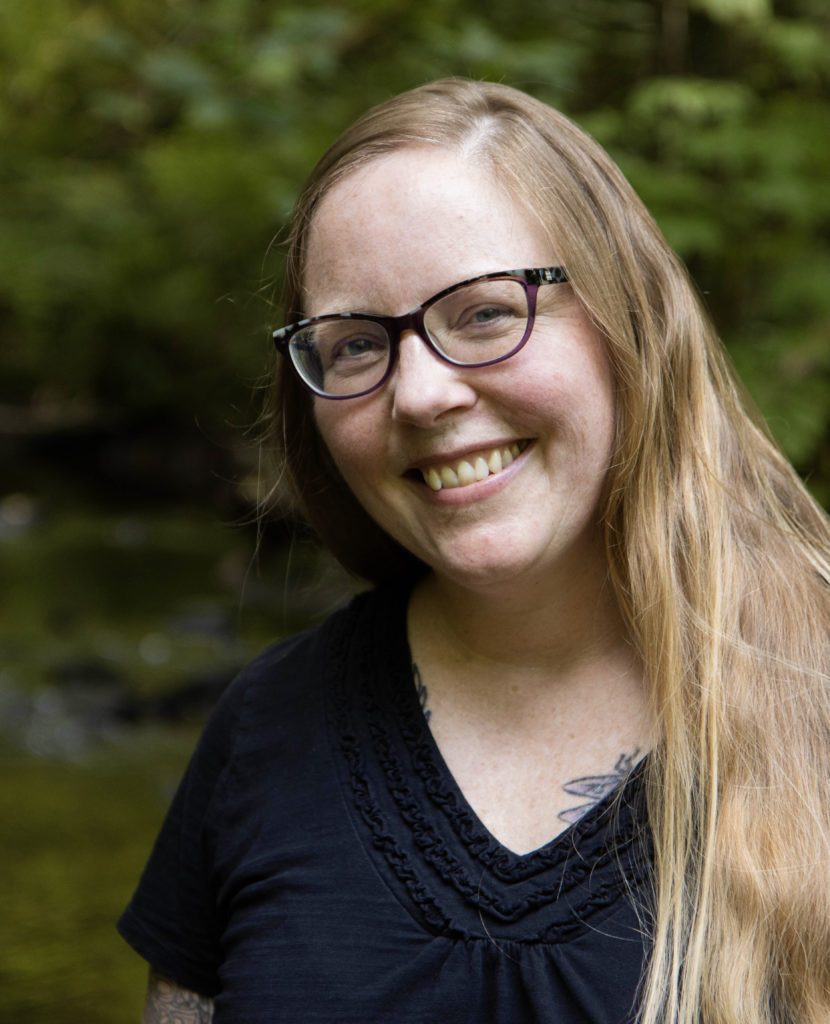 Heather Durham is a naturalist and contemplative writer with a bachelor of arts in psychology, a master of science in ecology, and a master of fine arts in creative nonfiction. She's spent much of her adult life working in the fields of environmental education, wildlife conservation, and natural areas restoration, and then writing about her experiences in the wilds. Her first nature memoir, Going Feral: Field Notes on Wonder and Wanderlust, was published in 2019, and her second, Wolf Tree: an Ecospychological Memoir in Essays, was published in April of 2022. Heather currently works behind the scenes at Wilderness Awareness School and facilitates programs in sensory awareness, journaling, and bird language.